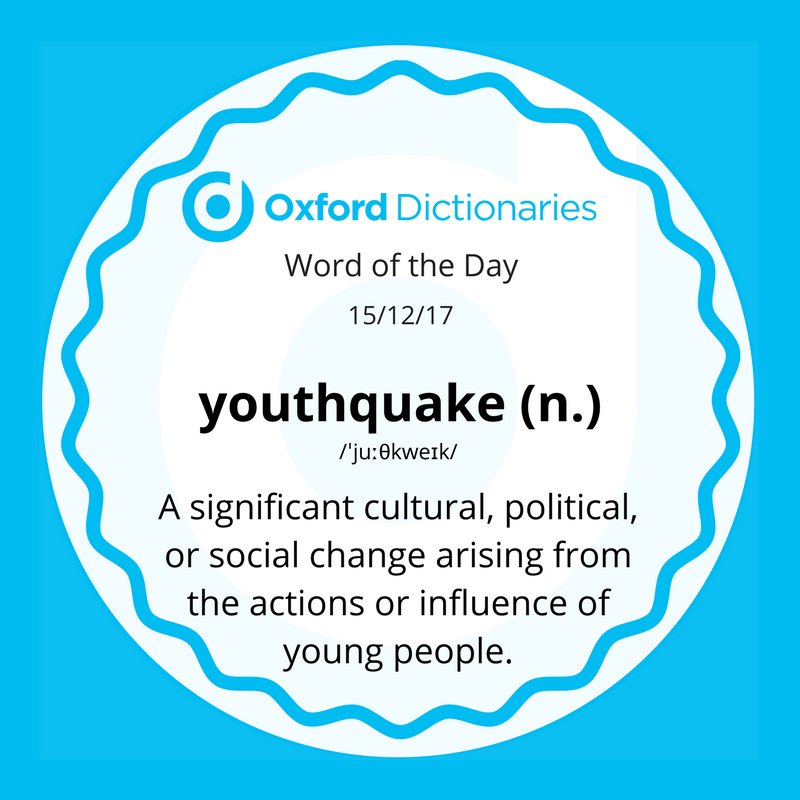 Until about an hour ago, I had never heard the term 'youthquake'. Upon learning about this word, I did a bit of research on our beloved Internet, and soon found out that it was the Oxford Dictionaries' Word for 2017.
As you can see above, it basically means Generation Z taking action, and having an effect on society. So, why is this more relevant than ever before?
Recently, the world was shocked by the horrific shooting that took place in Florida on Wednesday. No words can describe the disgust, the heartbreak, the loss or the distress that this monstrous event has caused.
And, despite all this, students like Emma Gonzalez have spoken out. It has been so incredibly angering to see Donald Trump's response to this act of violence; still, he refuses to acknowledge that guns are the issue when it comes to guncrime. Many of us know better than this, including those who attend Marjory Stoneman Douglas High School. These students should not have to explain the basic issues of guns to their president, but, more crucially, these students should not have to be grieving; they should never have lost anyone in the first place.
If you are able to, I ask that you watch this short clip of Emma Gonzalez's speech.
No words can quite describe this speech. It really is just powerful. I have the upmost respect for her, her classmates and the staff at the school. In the face of such a distressing event, they have managed to come together and begin raising awareness of gun control, as they refuse to accept the mere 'thoughts and prayers' that Trump has sent them; the country needs more than that. They need action, and I hope that it comes about soon.
So, why is it so important for 'youthquakes' to occur?
This generation will have to deal with the aftermath of whatever mess the POTUS manages to make. Then there's the poverty, the starvation, the diseases and the drought, that have to, at some point, cease to exist. Whatever can be done to prevent complete and utter disasters now, must be done. Not only this, but these young people need jobs, they need to go to college, to university, and to live relatively comfortable and safe lives. With many older (as well as some younger) members of society voting for racist homophobes such as Trump, society is going to crumble, and this group of strong-minded youth will have everything they stand for completely destroyed; it is these people that will be raising their children in the environment that is left behind; it is them that will be working in these conditions for the majority of their lives, and it is them that refuse to let close-mindedness take over the world. They just want to be listened to.
Generation Z may well be the 'Snapchat Generation', but they are also the 'Pivotal Generation', changing perceptions on gender, sexuality, race, religion and beliefs in general. They may not be angels, but they are here to be acknowledged, and to make a difference. I am not saying that all politicians are wrong, and that all kids are right – that would be absurd. However, I do believe that it is important to make it clear that this generation are not all ignorant, entitled, phone-addicts, and they do not deserve to be seen as such.
No, some of these people may not be able to vote. And, yes, they may still be at school. But they have views, and these views are valid. When heroes such as Emma Gonzalez come out fighting, we listen. Yes, Trump. That applies to you.